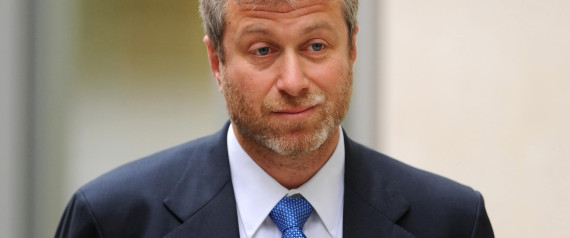 The chelsea owner owns the world's largest yatch
Chelsea FC owner Roman Abramovich could be targeted for sanctions over
Russia's annexation of Crimea
, David Cameron has hinted.
On Friday afternoon the prime minister warned Russia it faces international isolation and tighter sanctions unless Vladimir Putin takes steps to de-escalate the crisis in Ukraine.
He said the European Union had agreed a range of measures in response to Moscow's intervention in Crimea including trade restrictions on the "occupied" peninsula.
The EU has also expand its blacklist of Russian officials and politicians subject to travel bans and asset freezes by 12 names to reach a total of 33.
Asked by reporters during a press conference in Brussels whether he would consider adding Russian oligarchs, including Abramovich, to the sanctions list, Cameron said: "We certainly haven't ruled anyone out from this approach."
"The EU approach, and the way it works under the laws that we have, is that you need to target people who have a direct relationship with the action that has been taken," he said.
Alexei Navalny, a leading Putin critic, told the
New York Times
that Europe should target sanctions at the Russian president's "inner circle", including Abramovich, who he described as "the Kremlin mafia who pillage the nation's wealth".
The 12 individuals added to the EU blacklist include deputy prime minister Dmitry Rogozin, Putin's adviser Sergey Glazyev and aide Vladislav Surkov, the Speakers of Moscow's lower and upper parliamentary houses Sergei Naryshkin and Valentina Matviyenko, and Russian MP Elena Mizulina, who sponsored proposals to allow regions to join Russia without the agreement of their national authorities.
EU leaders have agreed to bring forward by several months the signing of association agreements with both Georgia and Moldova amid concerns over the potential for Ukraine-like situations to occur elsewhere in the region.
The summit conclusions said the EU was committed to "further strengthen the political association and economic integration with Georgia and the Republic of Moldova".
Here is a citation from Forbes website about Roman Abramovich
#142 Roman Abramovich
Roman Abramovich's stake in steel giant Evraz lost almost two thirds of its value in 2013, driven down by falling steel prices and a global steel glut. His 18% stake in Highland Gold Mining also did poorly, falling 45%. But he still likes metals. Together with his Evraz partner, billionaire Alexander Abramov, in April 2013 he bought a 5.9% stake in Norilsk Nickel from billionaire Vladimir Potanin's
conglomerate, Interros, and from UC Rusal, the huge aluminum company headed by billionaire Oleg Deripaska. Abramovich was orphaned as a child and dropped out of college, then made his fortune in a series of controversial oil export deals in the early 1990s. He teamed up with billionaire Boris Berezovsky to take over oil producer Sibneft at a fraction of its market value. He sold his stake in Russian Aluminum to Deripaska, and a 73% stake in Sibneft to gas titan Gazprom for $13 billion in 2005. In August 2012 he won a suit in the High Court in London brought by Berezovsky, who had been seeking $5.6 billion he claimed Abramovich failed to pay for stakes in Sibneft and Rusal. In July 2013 Abramovich said goodbye to Chukotka, stepping down from his post as Duma chairman for the icy autonomous region in Russia's far east where he had previously been governor (a new law bans Russian civil servants from holding assets abroad). For 12 years, he and his companies invested $2.5 billion in the region. He owns the U.K.'s Chelsea soccer team. He also owns the world's largest yacht, the 533-foot Eclipse, which cost him $400 million in 2010. He has a 377-foot ice boat, the Luna, a Boeing 767 and homes in London, France, St. Barts, Colorado and Los Angeles. His large art collection includes a collection of 40 paintings by Ilya Kabakov, the most expensive living Russian artist, which he bought from U.S. collector John L. Stewart in January 2013.